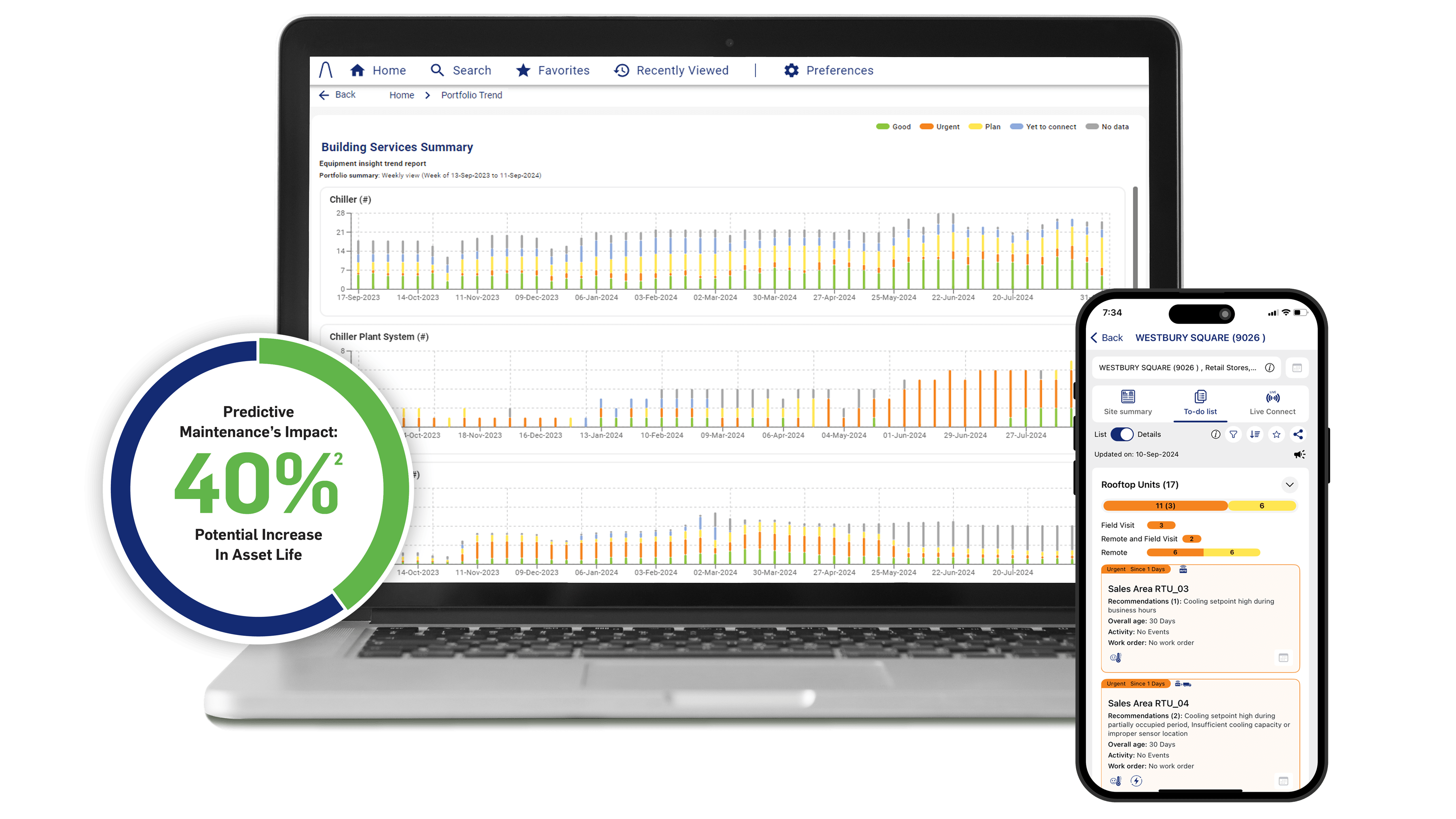 Abound Predictive Insights
Optimize building efficiency, asset reliability and overall performance
Abound Predictive Insights is part of the Abound suite of solutions for improved asset management across a building portfolio. Abound Predictive Insights combines advanced data analysis of your building's assets with advisory services from our team of experts, helping to optimize efficiency, comfort, and performance.
How It Works
The Abound Predictive Insights™ solution connects your building automation system (BAS) to our award-winning CORTIX™ artificial intelligence (AI) platform for analysis. This cloud-based platform can analyze thousands of controller and HVAC data points on the connected network to help identify and predict performance issues. With help from our experts, you can take advantage of reports with insights and recommendations to help proactively maintain the health of your BAS network and HVAC equipment.
Abound Predictive Insights can help forecast failures and maintenance issues, pinpoint efficiency improvements, and provide recommended corrective actions long before breakdowns occur. It also categorizes the recommendations into four urgency levels, provides the type of impact (tenant comfort, energy, equipment failure), and indicates whether the fix can be performed remotely or requires an on-site visit. Using this information, our experts will advise you on our detailed findings via a quarterly report.
Offerings & Compatibility
BAS Network Health – Analyzes the health of your Carrier i-Vu® or Automated Logic WebCTRL® building automation network.
HVAC Equipment Analytics – Analyzes the health of HVAC equipment (chillers, air handlers, rooftop units, VAV boxes, unit heaters, air conditioners, heat pumps, fan coil units, and refrigerated cases) connected to any BACnet BAS network (requires gateway to push HVAC equipment data to CORTIX).
Download the Predictive Insights Brochure arrow_forward

Opens in a new window
Features & Benefits
Provides early warning of issues before failure

Increases reliability and improves performance of BAS and HVAC assets

Reduces wasted energy by detecting when systems are not operating as designed

Reduces operations and maintenance expenditures through proactive strategies

Prevents unplanned downtime, improves energy efficiency, and reduces operational costs
Decreases truck rolls while maximizing service calls and impact

Reduces trouble calls from occupants/tenants

Prepares you for outages/updates ahead of time

Provides confidence that your assets are being proactively maintained throughout their life cycle

Keeps your BAS system up-to-date, secure, and free of critical errors
"We knew that there was … a really good opportunity … to just leverage … data into strategies that would help us save energy … that we weren't capturing in the way we were doing monitoring and controls."
- David Peterson, Energy Manager, Petco Animal Supplies Stores (SmartEnergyDecisions.com)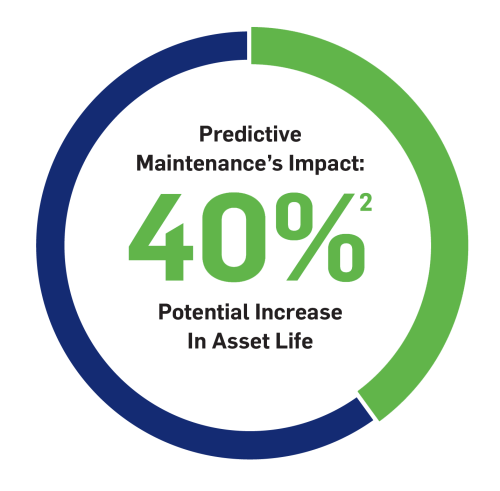 Did You Know?
Asset Life Increases with Predictive Maintenance
Reduce total costs of ownership by enabling smarter, more predictive service to optimize equipment health and performance.
2 Source: McKinsey